V is for Virtus and its values – strength, courage and excellence – are exactly why supermodels love this arm candy collection by Versace
If there's one thing we've learned in fashion, it's that supermodels are always on-trend with their choices of clothing and arm candies. After all, they're the first ones strutting down the runway in each season's new arrivals. This time around, we're spotting some our favourite supermodels—namely Kaia Gerber, Gigi Hadid, Irina Shayk and Stella Maxwell—carrying a range of bags from Versace and turns out, it's none other than the brand's latest Virtus handbag collection that debuted on its Autumn/Winter 2019 runway show.
In case you didn't know, #VersaceVirtus has its own set of values (strength, courage and excellence) which the designer envisioned would define a new age of femininity. Learn more about these values and the three reasons why supermodels are loving the Versace Virtus handbag collection, below.
1. The name & its core values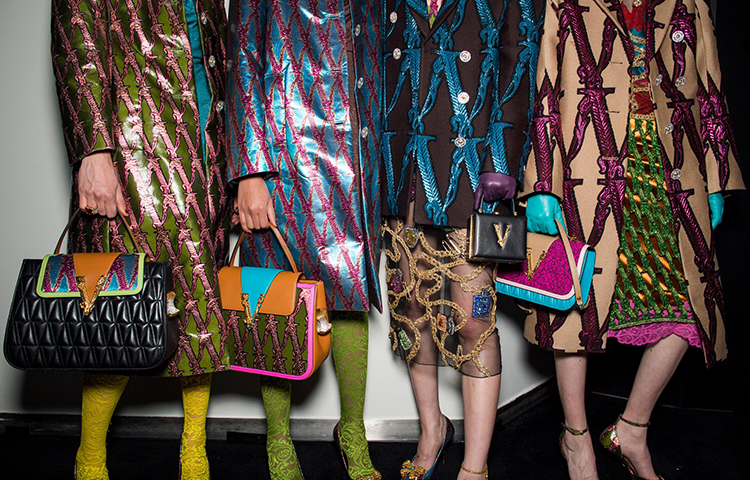 If you look up the Versace handbook, the name is actually taken from the Roman deity and it symbolises three important values. Check out what Chief Creative Officer Donatella Versace has to say about them:
Strength: Where a woman cultivates her ambitions and knows that nothing worth having comes easily.
Donatella says:

"For women to have credibility, they have to work three times more than a man."
Courage: A woman who is not afraid of making mistakes, and is brave enough to fail and try again.
Donatella says: "(While) fashion is not something that can change the world... it can change the woman. It can empower the woman. It can make her strong, in herself, and to believe in herself more."
Excellence: Curious and thirsty for knowledge, she is always open to learning and moving forward with change.
Donatella says:

"If you don't open your mind, you're going to stay in the past. We've got to chance the future."
Back then, Virtus may have been adorned on armours and mosaics to show the importance of excellence as something attainable but today, these bags act as a chic modern-day armour for the confident woman who oozes character and substance.
2. The iconic V hardware from SS92
Taking centrestage on the front of the bag is Versace's signature letter V hardware that's further embellished with acanthus leaves. FYI, this golden motif is inspired by Versace's signature Barocco print which first appeared on the runway of its Spring/Summer 1992 show. Fast forward to today, this bold symbol is now synonymous with the aesthetic heritage of the brand.
3. The variety of styles and silhouettes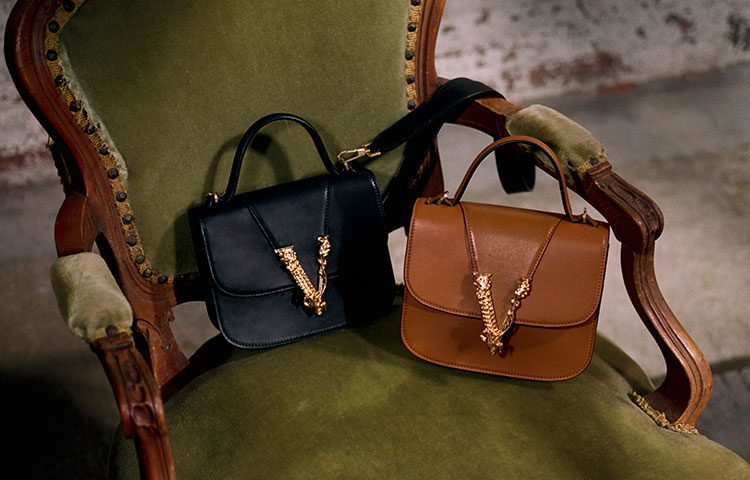 Not a fan of one-trick pony collections? You'll be glad to know that the Virtus arm candies come in countless variations through an assortment of hues, shapes and workmanship. Silhouette wise, you can take your pick from a top handle, shoulder bag, tote, belt bag, or evening bag that's either rendered in a magnetic flap over closure or shiny jacquard inserts with the letter V motif in metallic thread.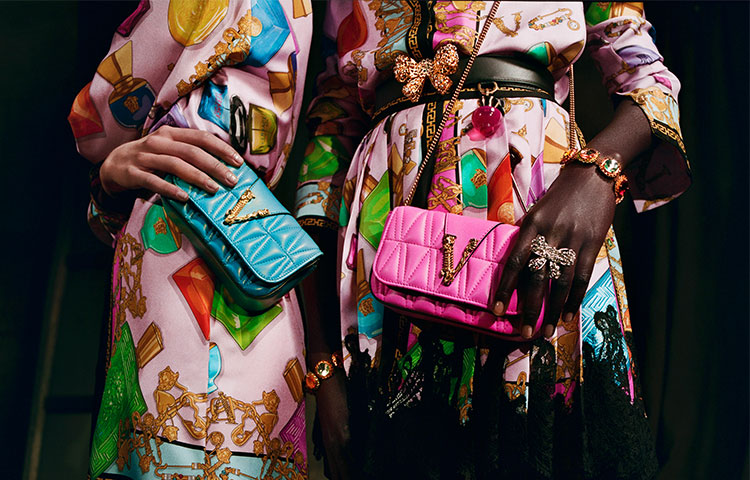 In terms of palette, there's something for everyone because it's available in both bright, striking colours (fuchsia, turquoise and coral red if you like it loud) as well as monochromatic, neutral tones (black, white and camel if you like it subtle). As for the workmanship, each piece is crafted from the finest quality calf leather where you can have your tote feeling buttery-smooth or textured with a quilted design outlining the pattern of the letter V.
Versace's Virtus bag line is now available at all Versace stores nationwide.