Malaysia is currently under the Movement Control Order due to the COVID-19 virus—here's how it all began
Head to "COVID-19 virus in Malaysia: Here's everything you need to know-updated daily" for the latest updates, stats and numbers
STATS IN MALAYSIA
CASES: 1,518
DEATHS: 14
RECOVERED: 159
Last updated on 23 March 2020 at 6:20pm
READ MORE:
UPDATE: 23 March 2020, 6:19pm
It is with great sadness that we share that the total number of deaths in Malaysia has now risen to 14 people. This, after four more deaths were reported today by the Health Ministry
The 11th death case (Case 1,070): A 70-year-old Malaysian man with a history of chronic illness and travel history to Indonesia in February
The 12th death case (Case 1,114): A 70-year-old Malaysian man who attended the gathering at Masjid Jamek
The 13th death case (Case 1,006): A 49-year-old Malaysian man who was the child of case 1,031 who is being treated at Hospital Umum Sarawak
The 14th death case (Case 595): A 51-year-old Malaysian woman who had close contact with the tabligh cluster case and was treated at Hospital Miri
Setakat 23 Mac 2020, sebanyak 14 kematian akibat #COVIDー19 dicatatkan di Malaysia. @DrAdhamBaba @DGHisham pic.twitter.com/WsKxXxTWz8

— KKMPutrajaya (@KKMPutrajaya) March 23, 2020
Malaysia has reported 212 new COVID-19 cases today, bringing the total up to 1,518 cases
123 of these new cases are related to the tabligh cluster cases
57 of these cases are currently in ICU, including 27 that need ventilators to assist with their breathing
The good news is that 20 patients have recovered and have been discharged, increasing the total recovered to 159
Selangor, followed by Kuala Lumpur, is so far the state with the highest number of the coronavirus
Taburan kes #COVIDー19 di Malaysia mengikut negeri setakat 23 Mac 2020.

Selangor, Kuala Lumpur, Sabah dan Johor mencatat kes tertinggi. pic.twitter.com/BRDKmXSXZ9

— KKMPutrajaya (@KKMPutrajaya) March 23, 2020
Meanwhile, "the National Security Council will meet before the movement control order (MCO) ends to decide if the two weeks enforcement period is sufficient, or need to be extended, says Prime Minister Muhyiddin Yassin" according to The Star
In addition, Malaysians aged 55 and below will be allowed to withdraw a maximum of RM500 monthly from their Employee Provident Fund (EPF) Account Two to buy essential goods, for a period of over 12 months—an initiative announced by PM Muhyiddin today. Applications will open beginning April 1
The other good news shared today include the government announcing free masks once a new shipment arrives.  "I have agreed and would like to announce that when it (face masks) reaches, we will distribute it for free to all Malaysians who need it," said PM Muhyiddin
*
The following updates first appeared in "COVID-19 virus in Malaysia: Here's everything you need to know-updated daily" and have been moved here for the purpose of a historical timeline.
UPDATE: 16 March 2020, 1:41pm
ICYMI: Malaysia has reported its largest number of cases in a day just yesterday—a whopping 190 cases. That, in addition, to the rising number a few days ago. The majority of these 190 cases are linked to the religious gathering that was held at Masjid Seri Petaling
Ringkasan kes #COVIDー19 di Malaysia setakat 15 Mac 2020.

428 kes keseluruhan termasuk 42 yang telah sembuh.

7 lagi pesakit telah sembuh dan dibenarkan keluar wad hari ini.

Daripada 386 yang sedang dirawat, 9 di ICU tetapi stabil. @DrAdhamBaba pic.twitter.com/AxpYGHxHA6

— KKMPutrajaya (@KKMPutrajaya) March 15, 2020
The total, thus, now stands at 428—making Malaysia the country most badly affected in Southeast Asia—while the recovered cases tally up to 42
Meanwhile, the Health Ministry advises the public to refrain from holding "mass gatherings" with over 50 people
Just in: The Minister of Foreign Affairs Dato' Seri Hishammuddin bin Tun Hussein tweeted that 79 Malaysians will be brought home from Italy, and 49 Malaysians from Iran
At the moment, the following institutions have announced their temporary closure: Pusat Sains Negara, Planetarium Negara, Alice Smith School, International School of Kuala Lumpur, Garden International School, Universiti Tun Hussein Onn Malaysia (UTHM)'s Pagoh campus
UPDATE: 13 March 2020, 3:21pm
ICYMI: 9 new COVID-19 cases have been reported in the country, bringing Malaysia's total to 158
6 cases have, however, recovered. In total, 32 cases have since recovered and have been discharged
Individuals who have no constant income while under quarantine can receive RM100 per day via Tabung COVID-19
Malaysians have been advised against travelling to Denmark while the country too will be enforcing a temporary entry ban for all citizens of Denmark, beginning March 14. Malaysian citizens, permanent residents and passholders who are returning from Denmark will have to quarantine themselves at home for 14 days
UPDATE: 12 March 2020, 6:30pm
The COVID-19 outbreak has been declared a pandemic, which according to WHO, means a "sudden increase in the number of cases all over the world, usually affecting a large number of people"
The first sporadic COVID-19 case in Malaysia has been reported. What it means is that the "infected person did not have any travel history to the affected countries or contact with an infected person", as described by New Straits Times. Singapore raised code orange after four sporadic cases were reported in the country. When asked if, thus, Malaysia needs to "upgrade its nationwide response mechanism to 'Heightened Risk' for the outbreak", health director-general Dr Noor Hisham responded that they will investigate the case first before making a collective decision
In addition, the Health Ministry has advised for mass gatherings to be postponed—this includes religious events and gatherings
ICYMI: Case 131 was among the 5,000 Malaysians who attended a tabligh (religious) gathering from February 28 to March 1 at Masjid Seri Petaling, Kuala Lumpur. As such, the Health Ministry has advised all attendees to immediately get tested should they show symptoms. The gathering was participated by around 10,000 people from several countries. A Brunei citizen who attended the event tested positive upon returning home
Meanwhile, religious affairs minister Zulkifli Mohamad Al-Bakri has said there is no requirement to suspend Friday prayers at the moment. Instead, he advised taking other precautionary measures such as shortening the sermon. "Members of the congregation are also advised to make ablutions at home and wear face masks, while the mosque committees are to provide hand sanitisers as part of preventive measures. Those showing symptoms of COVID-19, however, need not attend the prayers, as they are categorised as those who are sick," Dr Zulkifli said during a press conference.
Follow public health advice, travel advisory, avoiding crowds and other social distancing measures.

Stay informed. MOH Malaysia will be updated regularly as information becomes available.

Stay calm. Stay safe. We wish you all a beatiful morning!

— KKMPutrajaya (@KKMPutrajaya) March 11, 2020
UPDATE: 11 March 2020, 5:58pm
20 new cases have just been reported. The total number of COVID-19 cases now stand at 149
Case 78 has recovered and has been discharged. The number of cases that have recovered i Malaysia, so far, now stands at 26
Meanwhile, the Ministry of Health has tweeted the following: "The Government has imposed a complete travel ban on all Italians, Iranians, South Koreans and other foreigners arriving from the country from entering Malaysia or transit at any points of entry effective March 13. - Minister of Health, YB Dato' Sri Dr Adham Baba."
UPDATE: 11 March 2020, 9:02am
12 new cases have been reported in Malaysia, bringing the total number of COVID-19 cases in Malaysia to 129. Out of this total, 25 patients have since recovered and have been discharged
UPDATE: 9 March 2020, 5:48pm
Just in: 18 new cases have been reported in Malaysia, bringing the country's total number of COVID-19 cases to a whopping 117. Two of these cases are now in ICU and six of these cases have a recent travel history.
Case 101 has a travel history to Iran
UPDATE: 9 March 2020, 11:13am
ICYMI: Malaysia has reached a total of 99 positive COVID-19 cases. This, after 16 more cases were reported over the weekend. All are linked to case 66
Case 41, however, has recovered quite quickly and has been discharged
UPDATE: 6 March 2020, 6:23pm
Malaysia's total number of COVID-19 cases have increased to 83 as of today. According to the Ministry of Health, the majority of the 28 new positive cases are a "second-generation" (close contact to close contact) to the cluster case (case 26)
If you're interested, case 26, UDA Holdings Bhd chairman Hisham Hamdan, has issued a public statement
ICYMI: Malaysians are advised against travelling to: Lombardy, Veneto and Emilia-Romagna, Italy; Hokkaido, Japan; and Tehran, Qom and Gilan, Iran
Malaysia is temporarily restricting entry to visitors who have visited the cities mentioned above within the last 14 days—with the exception of citizens, permanent residents, social pass holders and Malaysia student passes
UPDATE: 5 March 2020, 7:31pm
Since our last update, the total number of COVID-19 cases in Malaysia now stands at 55, after another five new cases were reported today. These five new cases are related to case 26 but in total, 26 infected cases have been recorded from this cluster case.
UPDATE: 3 March 2020, 7:01pm
There are seven new reported cases of COVID-19 in Malaysia, bringing the total up to 36. All seven cases were in close contact with case 26
Case 30: A 38-year-old Malaysian man who has recent travel history to Australia
Case 31: A 50-year-old local man with no recent travel history
Case 32: A 43-year-old Malaysian woman with no recent travel history
Case 33: A 58-year-old Malaysian man who recently visited Kuching
Case 34: A 40-year-old Malaysian who works as a paramedic at a hospital that is treating case 26
Case 35: A 50-year-old Malaysian woman who recently travelled to Australia
Case 36: A 49-year-old man who travelled to Egypt
Only 14 cases are now being treated at the hospitals and are in stable conditions.
#COVID19 Senarai tujuh kes baharu di Malaysia, 3 Mac 2020.

1. Kes ke-30: Lelaki tempatan 38thn. Sejarah perjalanan ke Australia. (HSB)

2. Kes ke-31: Lelaki warga tempatan 50thn. Tiada sejarah perjalanan ke luar negara. (HSB)

— KKMPutrajaya (@KKMPutrajaya) March 3, 2020
6. Kes ke-35: Wanita warga tempatan 50thn. Sejarah perjalanan ke Australia.(HKL)

7. Kes ke-36: Lelaki tempatan 49thn. Sejarah perjalanan ke Mesir. (HSB)

Kesemua 7 kes ini adalah kontak rapat kepada KES KE- 26.

Pengesanan kontak rapat kes ke-26 ini masih berjalan.

— KKMPutrajaya (@KKMPutrajaya) March 3, 2020
UPDATE: 1 March 2020, 6:13pm
Four new COVID-19 cases have been reported in Malaysia, bringing the total number of cases so far to 29.
Case 26th: A 52-year-old man who visited Shanghai in mid-January
Case 28th: A 45-year-old man who is a colleague of case 25 and had travelled together to Milan, Italy in mid-February
Case 29th: A 35-year-old woman who shared a room with case 24, "who at that time was not known to have contracted COVID-19 yet".
UPDATE: 28 February 2020, 4:38pm
Malaysia just reported its 24th and 25th COVID-19 case in the country. The 24th case involves a 41-year-old Japanese woman who works in Malaysia. She is currently receiving treatment at HKL. The 25th case is a 54-year-old Italian man who married a Malaysian, and has recent travel history to Italy for work purposes. He is warded at Sungai Buloh Hospital.
Due to the surge of COVID-19 cases in South Korea, Malaysia will temporarily restrict entry of visitors from South Korea. In addition, there will be special immigration counters dedicated to visitors from the countries of South Korea, Japan, Italy and Iran. This is effective immediately.

"Temporary entry restrictions on all visitors from South Korea, including foreigners that had been at Daegu city and Cheongdo district within 14 days before arrival in Malaysia. This covers visitors transiting through Malaysia. Malaysians, permanent residents and pass holders (long-term social visit pass and student pass) that had been at Daegu city and Cheongdo district within 14 days before entry to Malaysia need to undergo health screening by Malaysia's Health Ministry," said Director-General of Health Datuk Dr Noor Hisham Abdullah.
UPDATE: 28 February 2020, 11:10am
Malaysia has officially cured and discharged all of the previous 22 COVID-19 patients in the country. However, it was reported yesterday that Malaysia has received its 23rd case—a Malaysian who recently travelled back from Japan. She returned on February 23 and started feeling feverish. The 53-year-old proceeded to get treatment from a hospital in KL the very next day
Latest: A new case positive for #COVID19 in Malaysia.

The 23rd case involves a local woman who had traveled to Japan recently.

Meanwhile two other patients - cases 16 and 22 have recovered and been discharged.

This brings the total number of cases so far to 23. pic.twitter.com/ujA01NFbX6

— KKMPutrajaya (@KKMPutrajaya) February 27, 2020
There is currently no travel ban but the Ministry of Health has advised postponing any trips to South Korea, Japan, Italy and Iran. "Members of the public are advised to postpone trips to South Korea, Italy, Japan and Iran following a marked increase of cases in those countries, to ensure the continued safety of yourself, family and society in general," tweeted DG of Health, Datuk DR Noor Hisham Abdullah
Also: "Saudi Arabia temporarily suspends entry for Umrah pilgrimage over coronavirus fears"
News of cured COVID-19 patients testing positive again caused concern for most after it happened to 14 per cent of said patients in the Guangdong province. They've since been put under medical observation. However, according to Song Tie, deputy director of Guangdong Provincial Center of Disease Control and Prevention, via China Daily, usually after being infected by a virus, the person's body will create antibodies that prevent the virus in that person from being contagious. "Young patients with mild conditions may form antibodies in as little as two weeks. Even if they test positive, the risk of being contagious is low." But for some elderly patients, it takes longer. As such, "cases of cured patients testing positive again are attributable to the condition of their disease and their physical quality, which could lead to incomplete healing of lung inflammation," said Song.
UPDATE: 24 February 2020, 3:50pm
There has been no further cases in Malaysia. Only two patients remain under treatment after the 14th and 19th cases were successfuly discharged today
UPDATE: 21 February 2020, 3:45pm
To date, 17 COVID-19 cases in Malaysia have been cured and discharged. Only five patients are still being treated
There will be a second rescue mission to Wuhan come February 25. According to The Star Online, Deputy Prime Minister Datuk Seri Dr Wan Azizah Wan Ismail said about 75 Malaysians as well as their spouses and children will be brought back in a special AirAsia flight. This, however, could be the final one. The second rescue mission will be handled similarly to the first one.
UPDATE: 18 February 2020, 6:51pm
So far, 11 COVID-19 cases in Malaysia have recovered and been discharged. This, after two more patients (Malaysia evacuees from Wuhan—case no. 11 and no. 12) were cured and discharged today. More about the other cured cases below:
Two (2) patients have been cured and discharged from Hosp on 18th Feb. Both of them are Malaysians' evacuees from Wuhan (Case no. 11 and no. 12) and was tested positive of COVID-19 on 5th February 2020.

Overall total number of cases who have been cured and discharged - 11 cases pic.twitter.com/IsaBv1hPdv

— KKMPutrajaya (@KKMPutrajaya) February 18, 2020
As there has been no new cases reported, the total number of COVID-19 cases in Malaysia remains at 22
Meanwhile, according to the Health Minstry, the "107 Malaysians and family members who were evacuated from Wuhan through Humanitarian and Disaster Relief (HADR) mission on 4th February 2020 will be allowed to return back to their respective homes. All repeated COVID-19 tests were found to be negative."
UPDATE: 17 February 2020, 3:50pm
The 15th COVID-19 case in Malaysia has successfully been treated and was discharged yesterday, bringing the total number of patients who recovered from the virus to eight
The government has stopped allowing any passengers from the cruise ship that docked in Cambodia to enter the country. This includes any other ships that have docked or departed from China
UPDATE: 16 February 2020, 7:35am
The latest COVID-19 case in Malaysia is an 83-year-old American woman. She was among the 145 passengers on a cruise that docked in Cambodia and was then on a flight to Malaysia to fly home. She is now being treated in Sungai Buloh Hospital. To date, this brings the total number of COVID-19 cases to 22.
The said cruise, WS Westerdam, was the same one that was rejected by four countries for fears of the COVID-19 virus. However, it finally docked in Cambodia and the passengers and crew were all allowed to fly home after the government there confirmed they've all passed the health checks. In light of the recent case, the Health Ministry will ensure all preventive and containment measures are continuously taken.
UPDATE: 15 February 2020, 4:05pm
According to the Health Ministry of Malaysia, two more people have tested positive for the coronavirus, bringing the total number of cases in the country to 21. The 20th case involves a 27-year-old Chinese national who showed symptoms at Bukit Kayu Hitam border. The 21st case is a 32-year-old Chinese national who married a local and is based here; but she travelled back to China to visit her family before returning to Malaysia on January 30
Meanwhile, four more COVID-19 patients have fully recovered and have been discharged, bringing the number of recovered cases to seven.
UPDATE: 14 February 2020, 10:35am
Over in Sarawak, there are four new patients suspected to be infected with the coronavirus, aka COVID-19 (its official name). To date, there have been a total of 80 patients under investigation (PUI) cases. 64 has tested negative while 16 are still waiting for the results
UPDATE: 13 February 2020, 6:50pm
Malaysia has reported its 19th positive case of the coronavirus. The 39-year-old woman from China is the daughter of Malaysia's 16th case and a friend to the 14th case. She arrived in Malaysia on January 25th and was quarantined after the two related cases were tested positive on February 5th and 7th. To date, the 19 coronavirus cases consist of six Malaysians and 13 Chinese nationals.
UPDATE: 12 February 2020, 10:05am
The Wuhan coronavirus has a new name. The World Health Organisation has announced its official name to be "COVID-19". The "co" stands for "corona", "vi" for virus, "d" for disease and "19" for the year it was identified (specifically, it was on December 31).
The UN health agency also went on to say that the virus is a "very grave threat" but there is a "realistic chance" of stopping it
UPDATE: 11 February 2020, 5:34pm
The Health Minister has stated that there is no need for employees to work from home at this current stage. However, those who are under quarantine due to the coronavirus should be given sick leave by the employers, according to the Human Resources Ministry. Employees cannot be asked to take unpaid leave or use their annual leave entitlement. "Employers must provide paid sick leave or hospitalisation entitlement during the quarantine period to employees receiving orders from registered medical practitioners, regardless whether the employee is quarantined at home or at the hospital," stated the guidelines released by the ministry
Professor Leo Yee Sin, executive director of the National Centre for Infectious Diseases (NCID) in Singapore, has shared that the "virus generally starts mild with non-specific symptoms such as cough, sore throat, slight fever and feeling tired". And thus, patients may experience these mild symptoms for at least a week before the virus affects the lungs.
UPDATE: 10 February 2020, 6:46pm
In total, three coronavirus patients in Malaysia have fully recovered and have been discharged
Malaysia has reported its 18th coronavirus case—a 31-year-old Malaysian who works in Macau and has travel history to China before returning to Malaysia on February 1. He's currently being treated at Sungai Buloh Hospital
Be wary of emails, links or attachments claiming to have legitimate information about coronavirus. Researchers with IBM X-Force and Kaspersky have found hackers sending spam emails containing malicious software programmed to copy personal information instead
Anyone in Sarawak who has recently been to Singapore must now self-quarantine themselves at home for 14 days
UPDATE: 9 February 2020, 5:43pm
Two more positive coronavirus cases have been reported in Malaysia. The 16th case being a 67-year-old Chinese national tourist and family friend of the 14th case that was detected on February 6. The 15th case involved a 59-year-old Chinese national tourist who is currently warded at Hospital Permai, Johor
Remember the first Malaysian man reported to have the coronavirus? The man who is believed to have contracted it while attending a conference at the Grand Hyatt hotel in Singapore? His mother-in-law is the 17th case in Malaysia. The 65-year-old woman had direct contact with him when they sat at the same table during the Chinese New Year celebrations.
Meanwhile, Malaysia has expanded its ban on visitors from China to include Zhejiang and Jiangsu provinces
UPDATE: 8 February 2020, 11:04am
With now a total of 33 confirmed coronavirus cases in Singapore, the country has raised it alert to orange, the same level it reached during the 2003 SARS outbreak. It means the virus is severe in the country and passes easily from human to human
Diamond Princess, the cruise ship quarantined off Japan has reported another 41 people with the coronavirus, bringing the total up to 61 (out of 273). There were more than 3,700 passengers and crew on the ship when it docked in Yokohama to resupply for the quarantine that could last till February 19
Rapid KL has tightened its cleanliness measures in accordance with World Health Organisation (WHO) standards. Rapid bus drivers have to get their temperatures checked before commencing their duties and wearing a face mask throughout their shift. "On top of our daily routine bus-cleaning procedure, we have added a disinfectant which has been recommended by the WHO. Because Rapid buses ferry 478,000 passengers in a day, this is a measure taken to minimise the risk of being exposed to the coronavirus," said Rapid Bus chief executive officer Muhammad Yazurin Sallij. All airport shuttle buses have hand sanitisers as well
Rapid Rail is also practising similar precautions. "All seats, hand grips and stanchions are wiped with the recommended disinfectant as these are the most frequent touch-points on a train. Escalator handrails and elevator buttons are wiped clean with the approved disinfectant, three times a day. Previously, they were only wiped once a day. As for the washrooms, they are cleaned eight times a day," said chief executive officer Abdul Hadi Amran
Researchers at the South China Agricultural University have found that the endangered pangolin—a scaly mammal that's considered the most trafficked animal—could be the "potential intermediate host" for the coronavirus. Previous research have suggested that the new virus came from bats but needed an "intermediate host" to transmit to humans. Out of more than 1,000 samples from wild animals, the pangolin's genome sequences of viruses were 99 per cent identical to coronavirus patients.
Another study suggests that "diarrhoea may be a secondary path of transmission for the novel coronavirus." The primary path would be virus-laden droplets from an infected person's cough. It's as simple as remembering to flush, isn't it? Not quite. In the past, faecal transmission of SARS sickened hundreds in Hong Kong's Amoy Gardens housing estate in 2003 due to the rising plume of warm air originating in bathrooms and contaminating the apartments. It was further transported to the surrounding buildings via wind. "The 2019-nCoV virus found in stool may be transmitted through fecal spread," added Jiayu Liao, a bioengineer at the University of California, Riverside. But, he added, "We still do not know how long this virus can survive outside the body—HIV can only survive roughly 30 minutes outside the body—and what temperature range the 2019-nCoV is sensitive to."
UPDATE: 7 February 2020, 11:10am
Malaysia's total number of coronavirus cases has increased to 14 after a Malaysian woman and another woman from Wuhan tested positive. Having no history of visiting China, the 40-year-old Malaysian woman is the first case of local transmission. She is, however, the younger sister of the local man who tested positive last week. "She developed fever and sore throat on Feb 1, and started coughing on Tuesday. As soon as her brother was found to be positive, she was traced by the Health Ministry. She sought treatment and tested positive on Wednesday. Currently, she is at the isolation ward at Hospital Sultanah Bahiyah in Alor Setar and is in a stable condition," said Health Minister Datuk Seri Dr Dzulkefly Ahmad at a press conference.
During the same conference, Dzulkefly explained, "This coronavirus is transmitted through droplets. This can be spread when the infected person sneezes or coughs. If you touch a surface which contains the infected droplet, and then you touch your face, you could contract the virus. But the droplets can only travel at most, a metre away from the person who emits them. If you are in the same room with an infected person, but the person does not emit droplets, the virus cannot infect you."
UPDATE: 6 February 2020, 10:24am
A social media post, which went viral yesterday, stating there is a 'Patient Under Investigation' (PUI) case for the coronavirus at a clinic in Sepang has since been denied by the Selangor State Health Department (JKNS). The case did not meet the criterias and health clinic was closed and decontaminated as a precaution only.
While there are news of some researchers either finding an effective drug or making a breakthrough in developing a vaccine against the virus, a representative for the World Health Organisation (WHO) has spoken out: "There are no known effective therapeutics against this 2019-nCoV (virus) and the WHO recommends enrolment into a randomized controlled trial to test efficacy and safety." According to Reuters, "the earliest that scientists hope to be able to start initial human trials of a new coronavirus vaccine is by June this year."
UPDATE: 5 February 2020, 5:19pm
The first person to be cured from the coronavirus in Malaysia has been reported. A four-year-old Chinese girl who was being treated in Langkawi since January 29 has been given the all-clear to return home to China. "This case shows the 2019-nCoV is treatable and the patient can recover fully, as many other cases in China have been reported. The perception that this disease is fatal to those who contract it is inaccurate," wrote Health director-general Datuk Dr Noor Hisham Abdullah on his Facebook page.
In a panic to buy face masks but find them sold out almost everywhere? Don't. The government has urged local manufacturers and importers to increase the production of face masks last week. However, people are advised against panic buying and retailers are reminded against increasing the prices (or face stern actions)
Singapore too has reported its first local human-to-human transmission, bringing the total number of infected cases to 24
Two Malaysians who were among the evacuated group from Wuhan have tested positive for the novel coronavirus. They're both now in an isolation ward at Tuanku Ja'afar Hospital, Seremban.
A 17-year-old Canadian national in the Kuala Lumpur City Centre (KLCC) area was suspected to be infected with coronavirus. As a precaution, a team in full protective suits had been dispatched to the location. He has since been taken to the Kuala Lumpur Hospital.
UPDATE: 4 February 2020, 6:16pm
The AirAsia aircraft carrying 141 evacuated Malaysians (and 24 non-Malaysians who are family members) from Wuhan has safely arrived at KLIA this morning
They will all be quarantined for 14 days upon arrival, to which they will not be entering the KLIA building but brought straight to the special quarantined area. This includes the crew and and Health Ministry staff that were involved
Meanwhile, Chinese scientists in Wuhan have made a new discovery on the coronavirus and how it can transmitted through the digestive system and into human faeces
The first Malaysian to have been infected with the novel coronavirus has been reported. The man from Selangor has a history of recently travelling to Singapore and the Health Ministry is working with our neighbouring country to determine where the infection could have taken place.
Another case–a Chinese national–was also reported today, bringing the total number of infected cases in Malaysia to 10.
UPDATE: 3 February 2020, 10:40am
ICYMI: "All life insurance and takaful operators will provide hospitalisation coverage and treatment due to the 2019 novel coronavirus to their policyholders and certificate holders." So do check with your life insurance companies and takaful operators for more info on the coverage
The first death from the coronavirus outside of China has been reported in the Philippines
UPDATE: 31 January 2020, 10:40am
The World Health Organisation (WHO) has finally declared the coronavirus a "global health emergency". The decision was made after reports of human-to-human transmission.
"Let me be clear, this declaration is not a vote of no-confidence in China. Our greatest concern is the potential for the virus to spread to countries with weaker health systems," said WHO director-general Dr Tedros Adhanom Ghebreyesus

In addition, the UN health agency added that it was not recommending "measures that unnecessarily interfere with international trade or travel"

Similarly, The Malay Mail reports that "Malaysia's import and export activities with China" will carry on. "Remember that whatever inanimate objects that are imported into the country do not transmit the disease. You will not get the virus by touching the goods," said Deputy International Trade and Industry Minister Ong Kian Ming

Meanwhile, Prime Minister Tun Mahathir said there is yet to be a need to ban all China flights although Putrajaya is still reviewing such a policy
We will update the story as it continues to develop. Alternatively, read on for some answers to FAQs about the new coronavirus.
UPDATE: 30 January 2020, 12:10pm
While the number of infected patients and fatalities are still on the rise, "China's National Health Commission also says 170 people had been cured and discharged," according to a tweet made by BFM News
Visitors from Hubei, China are now banned from entering Malaysia, regardless of their health conditions
Visitors from other parts of China are still allowed entry but subjected to thermal scanning at immigration checkpoints
The government is in talks with China to evacuate the 78 Malaysians that are currently in Wuhan. If the plan goes through, Prime Minister Tun Mahathir said Malaysia will send aid in the form of food supplies, masks and gloves to Wuhan via a chartered flight
Malaysia's total number of patients with coronavirus is now up to eight as confirmed by the Health Ministry. The eight patient is also a China national
We will update the story as it continues to develop. Alternatively, read on for some answers to FAQs about the new coronavirus.
UPDATE: 29 January 2020, 3:01pm
Three more cases of the coronavirus in Malaysia have been reported, bringing the total number of positive cases up to seven. All seven are Chinese nationals
Be wary of fake news and be sure you're not one to spread them either. A man in Bangi was arrested yesterday over a Facebook post containing false information about the Wuhan coronavirus. Under Section 223 of the Communications and Multimedia Act, the man could potentially face a punishment of imprisonment of no more than a year and a fine of up to RM50,000 if convicted
The police forces are following through with investigations on those who commit the offence of spreading fake news. Currently, it involves four separate Facebook posts and one WhatsApp exchange
Senarai berita palsu berkenaan novel #coronavirus di negara ini.

Kenyataan rasmi mengenai novel coronavirus hanya dikeluarkan KKM dari semasa ke semasa. #WuhanCoronovirus#2019nCoV pic.twitter.com/P3Asn2gGF9

— KKMPutrajaya (@KKMPutrajaya) January 29, 2020
We will update the story as it continues to develop. Alternatively, read on for some answers to FAQs about the new coronavirus.
UPDATE: 28 January 2020, 8:30pm
The Wuhan coronavirus is relentlessly spreading on a global scale as numbers of the infected and fatalities continue to rise. To the point that the World Health Organization has admitted its error in assessing the risks of the deadly virus, going as far as to calling the risks "very high in China, high at the regional level and high at the global level." But still it's not yet an international health emergency. Here's what you need to know instead:
Malaysia has suspended all visa facilities for Chinese tourists from Wuhan, Hubei and neighbouring provinces in China due to the development of the coronavirus outbreak
All four of the patients with the virus in Malaysia are Chinese nationals who came via Johor from Singapore
The Wuhan virus can be passed from human to human
In outbreaks of other #coronaviruses (MERS & SARS), person-to-person transmission occurred through droplets, contact and fomites, suggesting that the transmission mode of the 2019-nCoV can be similar

WHO Situation Report 27 January 2020 https://t.co/l1vODXEyD3 pic.twitter.com/vuNl64gZnm

— World Health Organization (WHO) (@WHO) January 27, 2020
A large quantity of the novel coronavirus have been found in the environmental samples collected from Wuhan's Huanan Seafood Wholesale Market, specifically in the wildlife trading section. Thereby suggesting the outbreak is highly related to the trading of wild animals
Despite the declaration made by Chinese authorities, the World Health Organization is still deliberating if the Wuhan coronavirus "is contagious during its incubation period, before symptoms appear"
However, the UN health agency estimates the incubation period for the virus to be between two and 10 days
Meanwhile, Malaysia Airports Holdings Bhd announced that they're doing everything they can to keep their airports hygienic
Germs away! We are doing everything we can to maintain hygiene at our airport by sanitising the handrails of escalators and trolleys. The safety of our passengers and #MYairportscommunity is always our topmost priority. pic.twitter.com/5MJKnIktK6

— Malaysia Airports (@MY_Airports) January 27, 2020
The Ministry of Health Malaysia has just released a list of 26 referral hospitals nationwide that can handle patients as well as suspected cases of the coronavirus
Senarai 26 hospital seluruh negara bagi mengendalikan kes-kes yang disyaki (Patient-under-investigation) dan sahih (confirmed) 2019-nCoV. pic.twitter.com/ZM6oforCMT

— KKMPutrajaya (@KKMPutrajaya) January 28, 2020
The viral message on a coronavirus in Sabah is fake, as confirmed by Sabah Health director Datuk Dr Christina Rundi
We will update the story as it continues to develop. Alternatively, read on for some answers to FAQs about the new coronavirus.
UPDATE: 25 January 2020, 2:00pm
It's official: The Wuhan virus is now in Malaysia. Three people from the group that was suspected and reported on January 24 have been confirmed to have contracted the virus due to close contact with the man in Singapore. BFM News reported that all three are PRC nationals, currently warded at the Sungai Buloh Hospital and are in stable condition.
Meanwhile, MalaysiaKini wrote that the Health Ministry is considering "the need to restrict the arrivals of Chinese nationals into the country to minimise the spread of the new coronavirus in Malaysia."
While two out of the three cases in Johor are aged 2 and 11 years old, respectively; most of the victims who passed away from the virus was over 60 and had pre-existing health issues, as summarised by The Star. The tricky part is that not all patients or victims actually developed a fever, which makes detecting possible cases even more difficult with just thermal scanners.
"A major concern is the range of severity of symptoms this virus is causing," said Dr Jeremy Farrar, Director of the Wellcome Trust.
"It is clear some people are being affected and are infectious while experiencing only very mild symptoms or possibly without experiencing symptoms at all," he said.
Regardless, take care and practise good hygiene, everyone! We'll continue to update this story as it develops.

UPDATE: 24 January 2020, 2:35pm
Just in: According to The Star, eight people in Johor are suspected to have contracted the Wuhan virus. They're currently being isolated and monitored by health officers for symptoms related to it. Deputy Health Minister Dr Lee Boon Chye said the eight people entered Malaysia from Singapore and had contact with the 66-year-old man (a Chinese national from Wuhan) in Singapore who was confirmed to have the virus.
"They are not patients," he told the reporters. "So far, there are no symptoms but they will be monitored for a week."
*
2020 is not off to a great start. From the devastating Australian bushfires to the crazy floods in Jakarta to the trending topic of WWIII (due to the death of Iran's top military commander by American drones)... and now, #WuFlu.
A quick recap: Wuhan, a city of 11 million people, recently had a coronavirus outbreak which has since spread across China. Wuhan was closed off but due to rising numbers, Chinese authorities have since expanded travel restrictions to a few other cities near Wuhan. To date, China has confirmed 830 cases of infected patients and a death toll of 25 people.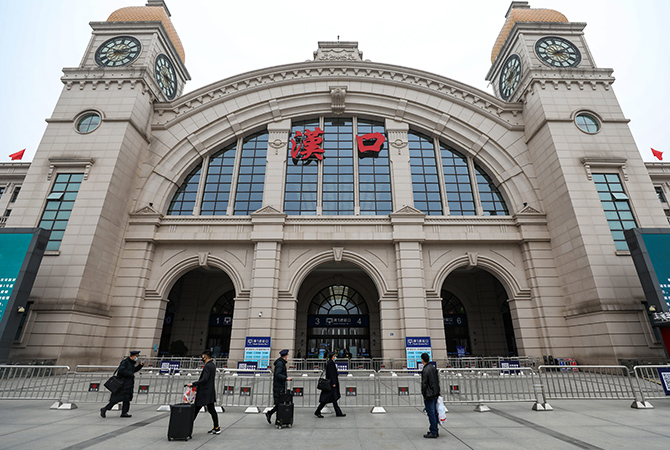 On January 23, it was reported that Malaysia has received four patients suspected to have contracted the Wuhan coronavirus (code name 2019-nCoV). By night, it was confirmed that the test results for the four patients have come back negative. On the same day, Singapore confirmed its first case of the Wuhan virus.
But it's always better to be prepared and well-equipped, and that includes knowledge of the coronavirus, precautions and its global status.
What is the coronavirus?
Remember SARS (severe acute respiratory syndrome) back in 2002 to 2003 when it caused more than 700 deaths in 37 countries? Yes, it's very similar. According to the World Health Organization (WHO), coronaviruses (CoV) are:
a family of viruses that cause illness ranging from the common cold to more severe diseases
zoonotic, which means patients get the virus from animals but the virus could have gone through a or a few genetic mutations that allow it to infect (and multiply) inside humans - and from there human to human
transmitted through the air
Q: What is a #coronavirus?

A: Coronaviruses are a large family of viruses that are known to cause illness ranging from the common cold to more severe diseases such as Middle East Respiratory Syndrome (MERS) and Severe Acute Respiratory Syndrome (SARS) https://t.co/PKzKaO2yfK pic.twitter.com/mhEa7LFVhx

— World Health Organization (WHO) (@WHO) January 17, 2020
So is it from bats?
The original source for both SARS and MERS (Middle East respiratory syndrome coronavirus) is the bat, with the middle host being either a masked palm civet or camels. But more recent reports have suggested that the Wuhan coronavirus could have come from snakes as the intermediate host. Snakes hunt for bats, after all; and since the Wuhan Huanan Wholesale Seafood Market, where the outbreak is believed to have started, did sell snakes, it's a high possibility.
This is a great, and costly, reminder that people should not be consuming wild animals.
Is Malaysia prepared if the Wuhan virus hits the country?
According to Datuk Dr Noor Hisham Abdullah, Director General of Health at the Ministry of Health Malaysia, a medical procedure for the virus for reference purposes has been issued and they'll be working with relevant agencies to strengthen screening activities at all checkpoints into the country. 26 government hospitals across the country have been identified to handle suspected 2019-nCov cases.
Deputy Health Minister Dr Lee Boon Chye also told New Straits Times that, "They include all the state hospitals and major specialist hospitals with an infectious disease unit. Every state will have at least one hospital that can provide isolation and treatment to patients."
The Health Ministry has confirmed that 4 people suspected of the coronavirus in Selangor and Sabah, have tested negative for the virus.

Meanwhile, Wisma Putra is advising Malaysians to defer all non-essential travel to Wuhan in China, and other areas affected by the virus pic.twitter.com/Nbk4YnPzG5

— BFM News (@NewsBFM) January 24, 2020
"We would prefer them (patients) to be treated in public hospitals unless private hospitals have the facilities to provide isolation (for patients) and take protective measures for staff. I think most private hospitals are not equipped with that."
"There are a few requirements (to handle such cases). First, the patients need to be isolated. Second, the healthcare providers should have adequate protection with special protective gear to keep them from being infected.
"And, finally, the facilities should have the capacity to perform contact tracing and monitoring," he said.
#Breaking Huangshi, another city in Hubei Province, will halt ferry and bus operations near the Yangtze river bridge and stop passenger traffic, from 10am Friday.

It joins 5 other Chinese cities placed in a lock down, namely Huanggang, Xiantao, Chibi, Lichuan and Ezhou pic.twitter.com/CrO9Ako1ZC

— BFM News (@NewsBFM) January 24, 2020
What are the precautions people can take against the Wuhan virus?
Maintain good personal hygiene, which means washing hands frequently with soap and using hand sanitiser. Wear a mask or cover your mouth and nose when coughing and sneezing. Cook meat thoroughly and limit contact with live animals. Yes, it's as basic as that, for now.
What are the symptoms?
Fever, difficulty breathing and coughing. In more severe cases, it can cause pneumonia, severe acute respiratory syndrome, kidney failure and even death.
Stay healthy while travelling!
Avoid travelling if you have a fever and cough.
If you have a fever, cough & difficulty breathing, seek medical care early and share previous #travel history with your health care provider#coronavirus pic.twitter.com/a1pDnElATV

— World Health Organization (WHO) (@WHO) January 23, 2020
Is there a vaccine?
Not at this point, unfortunately. But three research teams are working on it and are aiming to have a shot developed and approved within a year, according to Channel News Asia.
Which countries have reported cases of the Wuhan virus?
China, Malaysia, Thailand, Hong Kong, Macau, Japan, South Korea, Taiwan, Vietnam, Singapore, France, Australia, Nepal and the US.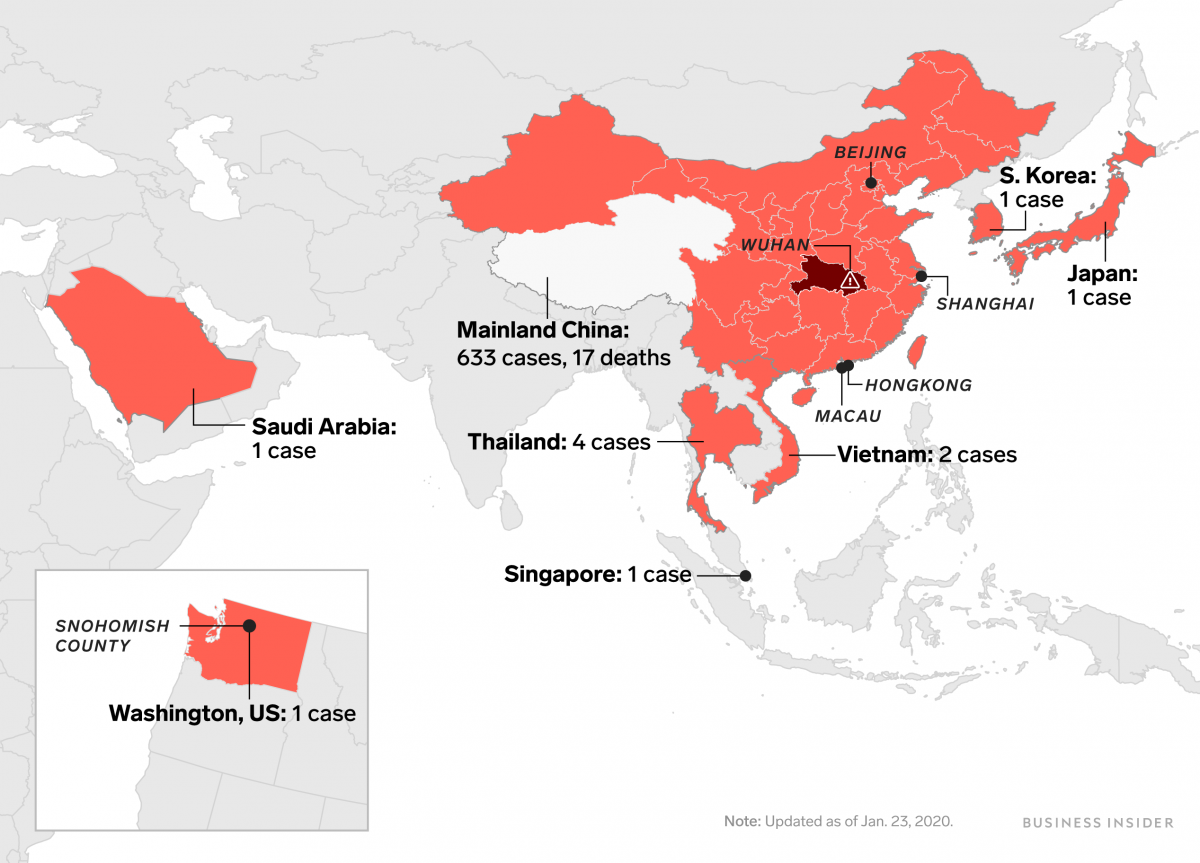 Confirmed cases globally: 1,316
Reported deaths: 41
Total countries: 14
But it's still not considered a "global emergency"
An emergency committee set up by the WHO has decided that the Wuhan virus is not yet a global health emergency but will meet again to discuss within ten days. Dr. Tedros Adhanom Ghebreyesus, the WHO's director general, however, acknowledged that it is an emergency in China but not yet a global one.
More updates to come. Meanwhile, the World Health Organization has put together an FAQ thread here.
Head over here for more COVID-19/#WFH stories.